What is The Skin Microbiome and How Jojoba Can Help Keep It Healthy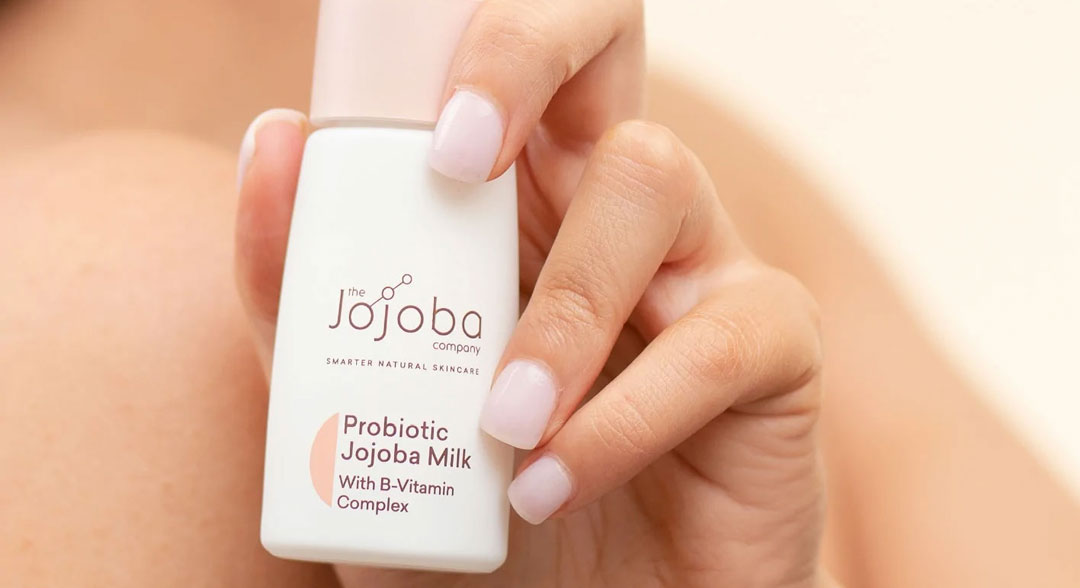 What is The Skin Microbiome?
The skin microbiome refers to the large number of microscopic organisms that live in the layers of our skin. In simple terms, it is our skin's ecosystem, which is inhabited by bacteria, fungi and archaea. A large variety of skin conditions, from acne to eczema, have been associated with changes to the skin microbiome, which can be caused by factors like diet, genetics, age, hygiene or lifestyle. A healthy skin microbiome contributes to visibly radiant and youthful looking skin. Understanding the role our microbiome plays in the health of our skin is key to unlocking well-protected, healthy skin.
How do the Different Types of Skin Bacteria Impact Our Skin Microbiome?
There are two types of skin bacteria:
Commensal bacteria which live in harmony with our skin cells and biological cycles (the healthy bacteria).
Pathogenic bacteria which tend to more negatively impact our skin health.
These good and bad bacteria coexist inside the body - but problems can occur when bad bacteria overtake the good bacteria (pathogenic bacteria overtake the commensal bacteria). When the pathogenic bacteria overtake the commensal bacteria, this is associated with drier and more sensitised skin conditions, as well as accelerated signs of ageing, like wrinkles and loss of elasticity.
How Jojoba Oil Rebalances Skin Microbiome to Improve Complexion
Research has shown that Jojoba is not only useful in the growth of the good commensal bacteria but also helps to rebalance the skin microbiome and relieve skin conditions.
In a study conducted over 4 weeks, it was found that compared to other oils, the use of Jojoba led to a 25% decrease of sebum in the skin, as well as a 24% increase in overall skin radiance.
*studies conducted by Vantage on 60 male and female volunteers using jojoba compared to a placebo
Shop the 100% Natural Australian Jojoba today and see the benefits for yourself. Jojoba helps your skin heal itself and is perfect for all skin types including mature skin, dry skin, oily skin, uneven skin and normal skin. Find out more about Jojoba and discover 100 Reasons Why We Love Jojoba and read our FAQs. Our blog also contains helpful articles including What is Jojoba Oil exactly? and The Secrets to Glowing Skin. Jojoba has healing properties that restore the skin naturally and therefore encourage healthy bacteria to thrive and rebalance the skin's microbiome. So no matter your skin condition or sensitivity, Jojoba is a natural solution.
Cut back on clutter with this multitasking, nourishing serum
Our Probiotic Jojoba Milk is beginning to make its mark as a staple favourite, being hailed as a multi-tasking hero and a serum that is a one-stop-shop solution on Review Crew! Beauty Crew sent The Jojoba Company Probiotic Jojoba Milk Serum to a panel of women aged 22 to 45 with redness, irritation, inflammation, rough skin texture, and dryness.
Based on 50 reviews, not only did our Probiotic Jojoba Milk receive a remarkable 4/5 star rating, the impressive feedback we received about the panel member's experience with using the product is unmatched with visible improvements seen on their skin. Here are just a few of the results and review outcomes.
Maintaining a Healthy Skin Microbiome
Ensuring that you use natural skincare and maintaining a healthy lifestyle will help you with achieving a healthy skin microbiome.
There are many factors, especially in our modern climate, that have played a part in decreasing our bacterial diversity. For example, our increased use of hand sanitiser during the pandemic, which has stripped our skin of its natural oils.
Thankfully, there are plenty of ways to help restore vitality to your skin's microbiome.
Enjoying a balanced diet, getting enough sleep and drinking plenty of water are easy ways to ensure your skin stays healthy from the inside out.
However, it is also important to minimise harmful factors that can contribute to the disruption to your skin's microbiome. Minimising stress, environmental pollution and excessive alcohol/nicotine can also be helpful in maintaining a well-protected skin microbiome.
What Skincare Products Help With Maintaining a Healthy Microbiome
Thinking about the soaps and cleansers you use can also be a factor in maintaining a healthy skin microbiome. Are you using soaps and cleansers that are gentle on your skin? Be wary of products that contain harsh chemicals - they could be stripping away the good bacteria and disrupting your skin microbiome! If you're looking for a ph balanced natural cleanser that doubles as a gentle exfoliator, try the Jojoba Bead Cleanser! If you deal with more oily skin, the Citrus Gel Cleanser is a great cleanser for oily skin and is perfect for unclogging pores and controlling excess oil. Ditch the harsh face washes and try a cleanser from The Jojoba Company's more gentle cleansers that will protect your skin's natural layers.
Start Your Journey to Improving Your Skin's Microbiome and Achieving Radiant Looking Skin
Whether you're a true skintellect or just starting out in your skincare journey, The Jojoba Company is here to help you nurture your skin with natural products that work with your skin - not against it. Discover natural skincare powered by Jojoba, our products are vegan, Australian made and environmentally sustainable.
---