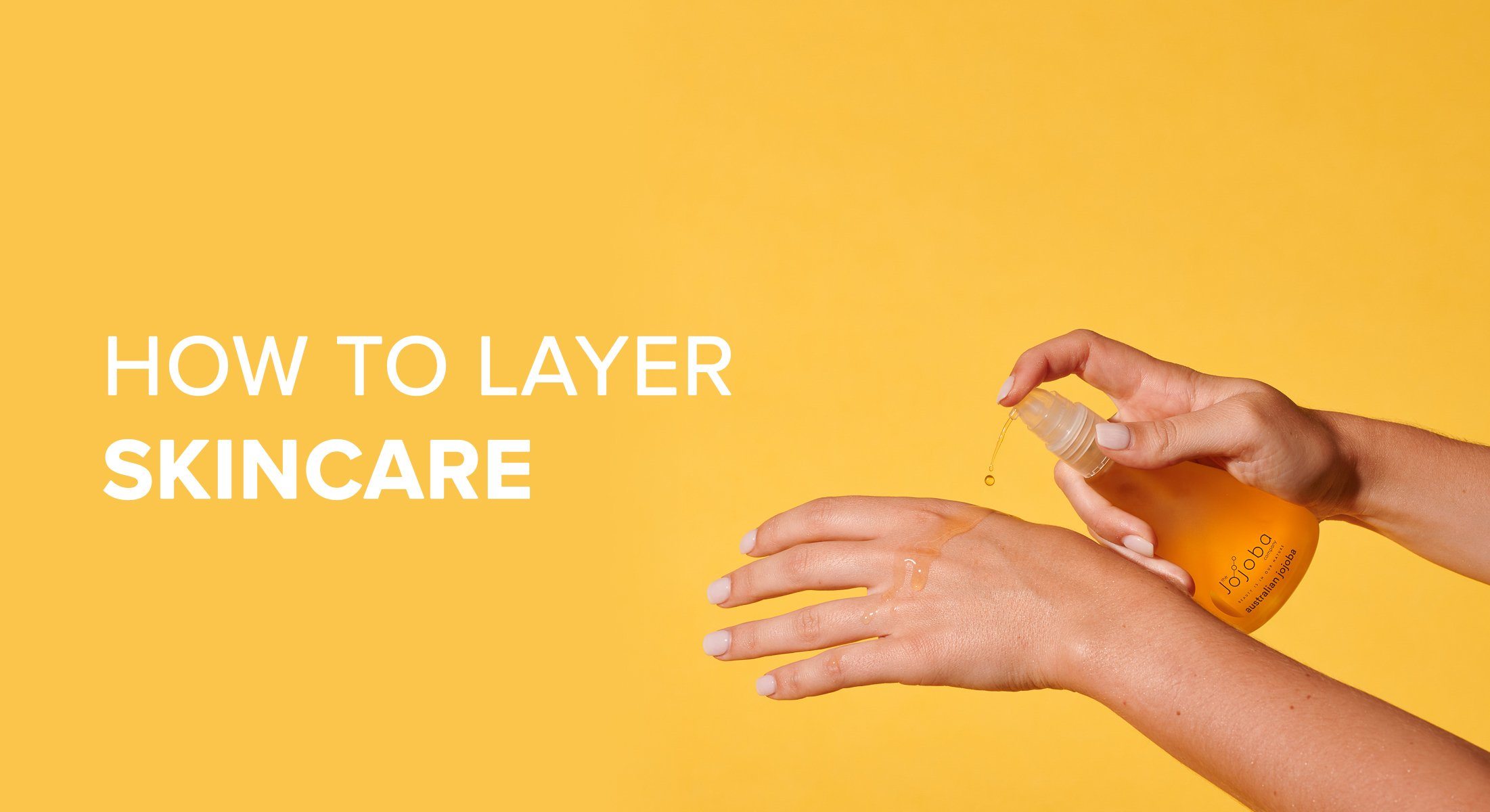 Your skin is an investment. Which is why we want you to not only get the most out of your money, but also the best possible results. A great skincare routine should also not feel like a chore, it should be something you look forward to morning AND night. Discover our guide on how to layer your skincare and get the most out of your skincare routine!
Crafting Your Skincare Routine
Try mixing your products up, whether you have two different facial oils to target two different concerns, or a fun face mask every other day, take the time to enjoy looking after your skin.
A proper skincare routine can be crafted for the busy mum, it's about the quality of product. If you are time-poor, try opting for products that are multi-focused, for example our Multi-Defence Moisturiser. A broad-spectrum moisturiser and SPF, it's the ultimate two-steps-in one!
When it comes to Layering Your Skincare Products the General Rule of Thumb is Thinnest to Thickest.
So, if you are ever confused, try placing one pump of each of your products on the back of your hand and slightly tilting it. The product that slides off first should be applied first, the second should sit on top and so on. Read more below about how to layer your skincare optimally!
Guide To Layering Skincare the Right Way
With lots of different conflicting advice out there and so many products to choose from, it can be daunting knowing how to create a regime for your own personal needs and in which order to apply them for the best benefit.
The best rule of thumb when ordering your skin care regime is thinnest to thickest. Always apply the product with the thinnest consistency first and finish with the one that is thickest. When it comes to thin products, think of your hyaluronic acid, salicylic acid and AHA water-based serums compared to your thickest products such as your rich, thick occlusive night creams. Everything else should be layered between these. Our recommended steps include:
Cleanser: treat your skin daily with a natural facial cleanser that gently cleans and freshens.
Toner: use a natural toning mist to calm and soothe the skin, prepping for the next layers.
Facial Serum: target skin concerns with a natural serum and nourish your skin to the maximum. Add an eye serum to target the eye area.
Facial Oil: incorporating a natural facial oil to your skincare regime helps with problem skin including pigmentation, dryness and ageing.
Eye Cream: nourish the eye area with a natural eye cream that helps to plump the skin and smooth eye lines.
Moisturiser (Day/Night): you should definitely have a routine for the morning and evening, so depending on the time of the day, chose between a natural day moisturiser and natural night moisturiser.
SPF (AM): for day time, go for a natural moisturiser with SPF to protect the skin.
Lip Balm: finally, finish off your skincare layering with a moisturising natural lip balm to protect that pout!
How Are Skincare Products Classified?
Skin care products can generally be classified as either humectants, emollients or occlusives, each with a different function in the skin so it is important to include each of these in your regime to bind, support and protect the skin.
What Are Humectants?
Humectants are water-loving ingredients! Think deeply hydrating components like your AHAs, Salicylic Acid and Hyaluronic Acid. They work by pulling moisture from the air, these water-magnets help keep the top layer of your skin hydrated. Almost like a binding agent, humectants draw, retain and bind hydration and skin. This should always be your first step in your regime after cleansing.
What Are Emollients?
Emollients are your middle step helping to replenish the moisture and nutrients in your skin. These ingredients are often oil-rich components, think fatty acids, lipids, esters, oils and butters. From argan oil, olive oil, Shea Butter to rosehip oil and jojoba, these all fall under the emollient umbrella. This step allows you to treat dry or flaky skin, leaving you feeling smooth and soft. Helping support and replenish your skin barrier, emollients work best when applied after your humectant step or on wet skin. Facial oils act as your emollient step, so, whether you have dry & dehydrated skin, oily & acne prone skin, mature skin & ageing concerns, sensitive & irritated or normal skin, choose a targeted facial oil to give your skin the tools to help itself.
What Are Occlusives?
Your occlusive step comes in the form of a facial moisturiser. Helping to lock in all the powerful ingredients in the previous steps, an occlusive creates a powerful barrier helping to keep all the goodies in and all the pollutants out preventing water and moisture loss. It is important to choose an occlusive that won't block the pores, still allowing the skin to breathe.
Apply Skincare To a Fresh, Clean Face
Clean skin is always step one when it comes to the perfect regime. Always start with a fresh base. Apply your skincare to damp skin as it absorbs 10x better when damp. Try spritzing your skin with a mist in between steps and always wait 30 – 60 seconds between each step to allow the product to soak in. Don't forget to complete your morning routine with a high-quality SPF. If you are using a chemical SPF, use it before your occlusive moisturising step. If you are using a mineral based barrier SPF (usually zinc based) always use it after your occlusive moisturising step as your very last step.
One Important Thing to Remember is...
that Jojoba is NOT an Oil,
but a Liquid Wax Ester.
Therefore, our natural facial oils fall into the 'lightweight oil' category. So, when it comes to layering a TJC facial oil, pop this goodie on BEFORE your moisturiser. Our 100% Australian Wadi Wadi Jojoba is the perfect addition to your skincare routine, providing many benefits including moisturisation for sensitive skin, dry skin & problem skin, even acne. Read more about our Jojoba Farm and the benefits of Jojoba.
Take the Jojoba Journey with us Today:
Cleanser, toner, serum, oil, eye cream,
moisturiser (day/night), SPF (AM), lip balm
---