Reflecting On Our Journey - Happy Birthday to Us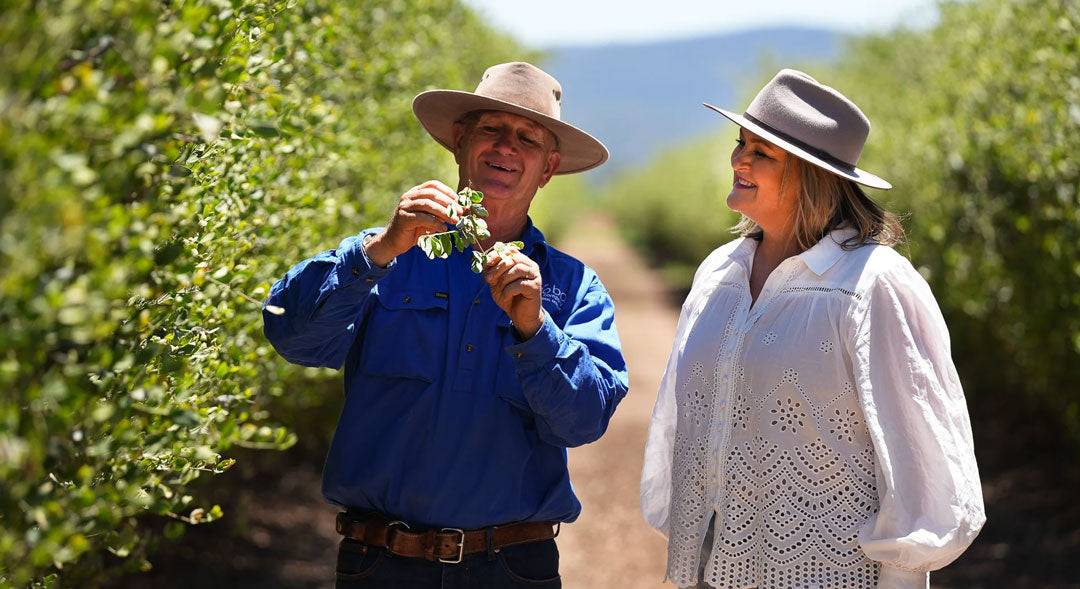 Coming up to our 13th Birthday in July, we're reflecting on all the important aspects of our Jojoba journey - the passion of our co-founder Vicki, the Beresford Farm, our much-loved product ranges, and of course, our supportive community.
We would be nowhere without the wonderful people who love and trust our products and we're so grateful to be continuing this journey with you all. We've got some exciting new product launches coming this year - we can't wait to show you what's in store!
But first, let's take a trip down memory lane…
The Birth of TJC
Our co-founder Vicki started her own personal journey with Jojoba 20 years ago, while she and her husband were trying to start a family.
She was told it would be best to make the switch to natural products to help prepare her body for pregnancy and was recommended to try Jojoba as part of a new, natural skincare routine.
After using it and absolutely loving it, Vicki was surprised to find out that her father, Ian, had got a hold of Jojoba and planned to grow it on his farm.
At first, Vicki was excited by the opportunity to get her hands on endless amounts of Jojoba!
But then she recognised a great opportunity - to share her much-loved Jojoba with the world, allowing everyone to take advantage of the amazing benefits Jojoba can have on the skin.
Alas, The Jojoba Company was born.
At The Jojoba Company, we manage the entire process from bean to bottle, ensuring complete purity for our Australian Jojoba. This involves ensuring we're always implementing processes that avoid harm to animals, the environment and of course, your skin.
Now, in 2022, our focus is to create more innovative skincare products powered by plants, so you can get transformative results, naturally.
Beresford Farm
Sustainably grown in Australia's Riverina region, our Beresford Farm is the largest nurtured sustainable Wadi-Wadi Jojoba farm.
A sustainable farm has always been a focus for us and since its birth in the year 2000, it has tripled in size due to the increasing demand for pure Jojoba.
It continues to maintain the high standards we set out to achieve 10 years ago.
We hope that you continue this journey with us, towards a more natural and sustainable future.
The Products
With three new products launched annually, we're continuing to build upon our much-loved Age-Defying Range, Nourishing Range and Jojoba Range.
Our Jojoba Probiotic Milk serum is the newest addition to our Nourishing Range, an innovation in probiotic-infused skincare that rebalances the skin microbiome while alleviating redness and irritation.
You can also expect the launch of a brand new face mask in the coming months.
Combining our Australian Jojoba with a botanically-derived AHA exfoliant, our upcoming enzyme mask will give your skin a natural radiance without the tingling sensation - perfect for those with sensitive skin.
Our Loyal Community
With close to 6000 reviews on all of our products, we're proud to have such a strong community of customers who absolutely love our products - and aren't afraid to tell us!
From skin concerns to signs of ageing, many of our customers say our Australian Jojoba has been a game-changer for their skin.
This is why we started The Bean Collective!
The Bean Collective
The Bean Collective is a loyalty program, designed to give back to our loyal customers.
The free-to-join membership, which allows you to earn points with every purchase you make, allows members to receive up to $30 in credits, as well as freebies and exclusive access to new products and virtual events.
You'll earn one point per dollar spent with us, but you can also earn points in other ways too. For example, you can earn 50 points by creating an account with us, 200 points by entering your birthday in our system and up to 110 points by following us on our social media accounts. For every 100 points you earn, you'll receive a $5 credit.
Redeeming your points is easy - simply click Redeem My Points and copy and paste your code at checkout!
---