Probiotic Milk Event Recap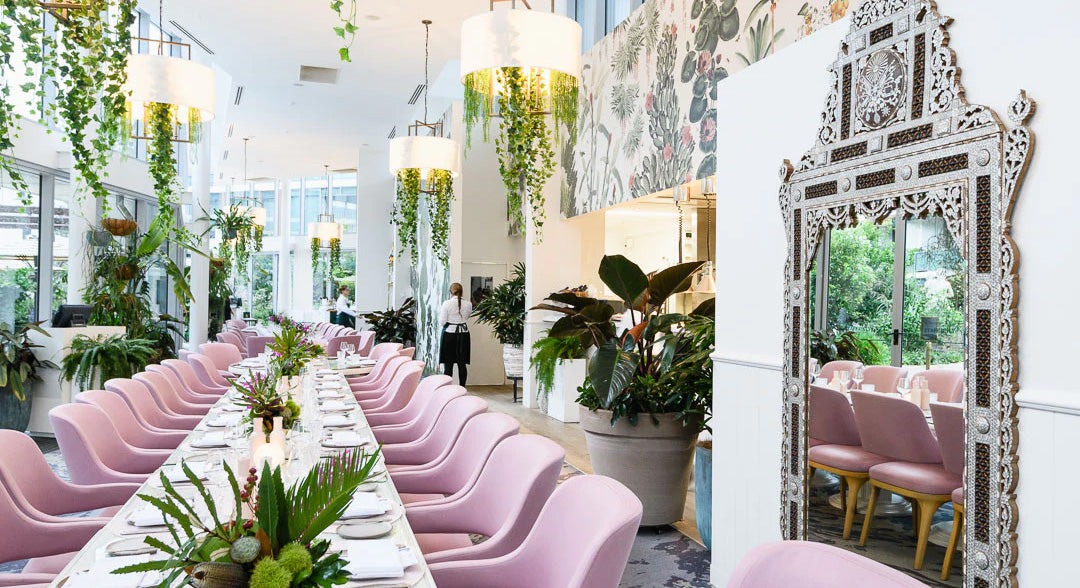 To celebrate the launch of our Probiotic Jojoba Milk, we gathered guests together for a three-course lunch, which included a Lyra performance and an introduction from our co-founder Vicki.
Guests were invited to join us at The Botanica Vaucluse, an incredibly bright and open space, filled with foliage - a reflection of our natural, plant-powered brand. As guests arrived to the event space, they were greeted with mocktails made by The Botanica's bartenders.
Vicki and the TJC team were there to chat to guests, welcome them to the space and lead them to the main table which was dressed in beautiful arrangements of pink and yellow flowers, thanks to Mr. Flamboyant Flowers. We had a range of guests join us, from content creators to publishers like MamaMia and Gritty Pretty and some of our e-retail partners, including Nourished Life and Oz Hair and Beauty.
As guests were served their entrees, our co-founder Vicki was introduced and given the chance to speak about the launch of our Probiotic Jojoba Milk. She delved into the science behind the product and the benefits it has on the skin.
Once Vicki concluded her intro, our Lyra performers were introduced to the guests as the entertainment for the event. We chose these Lyra performers as entertainment as they reflected the 'balance' that our new Probiotic Jojoba Milk brings to the skin microbiome. Once guests applauded the Lyra performers, they were served their mains and were left to network. Many guests took the opportunity to take photos of the event space, post about the Probiotic Jojoba Milk and get a photo with Vicki. On their way out, they were also given a goodie bag filled with TJC products.
The event went off without a hitch, and our guests could not stop complimenting the food and service The Botanica supplied, as well as how stunning the space was. It was a huge success!
"I just wanted to thank you for a beautiful lunch and launch on Thursday. Perfect spot and brilliant atmosphere."
Blanche @thebeautybloss Content Creator.
"I had such a nice time. Such a beautiful event."
Sophie Howe
Beauty Editor, The Iconic
"I had so much fun and loved the food."
Bianca @frombianca
Content Creator
Probiotic Jojoba Milk
Our Probiotic Jojoba Milk is a quick-absorbing, milky formula designed to rebalance the skin's microbiome.
Using a blend of Jojoba Milk and powerful probiotic non-dairy yoghurt, this natural facial serum softens and deeply hydrates the skin for a luminous complexion.
Combined with Vitamins B3, B5, B6, C and E, the Probiotic Jojoba Milk serum revitalises skin cells for the ultimate hydration boost - leaving your skin softer, smoother, and healthier.
Sitting within our Nourishing Range, the Jojoba Probiotic Milk serum not only acts as a hydrating milky serum but also has brightening effects to improve skin tone and age spots.
---