Our Perfect Product Pairings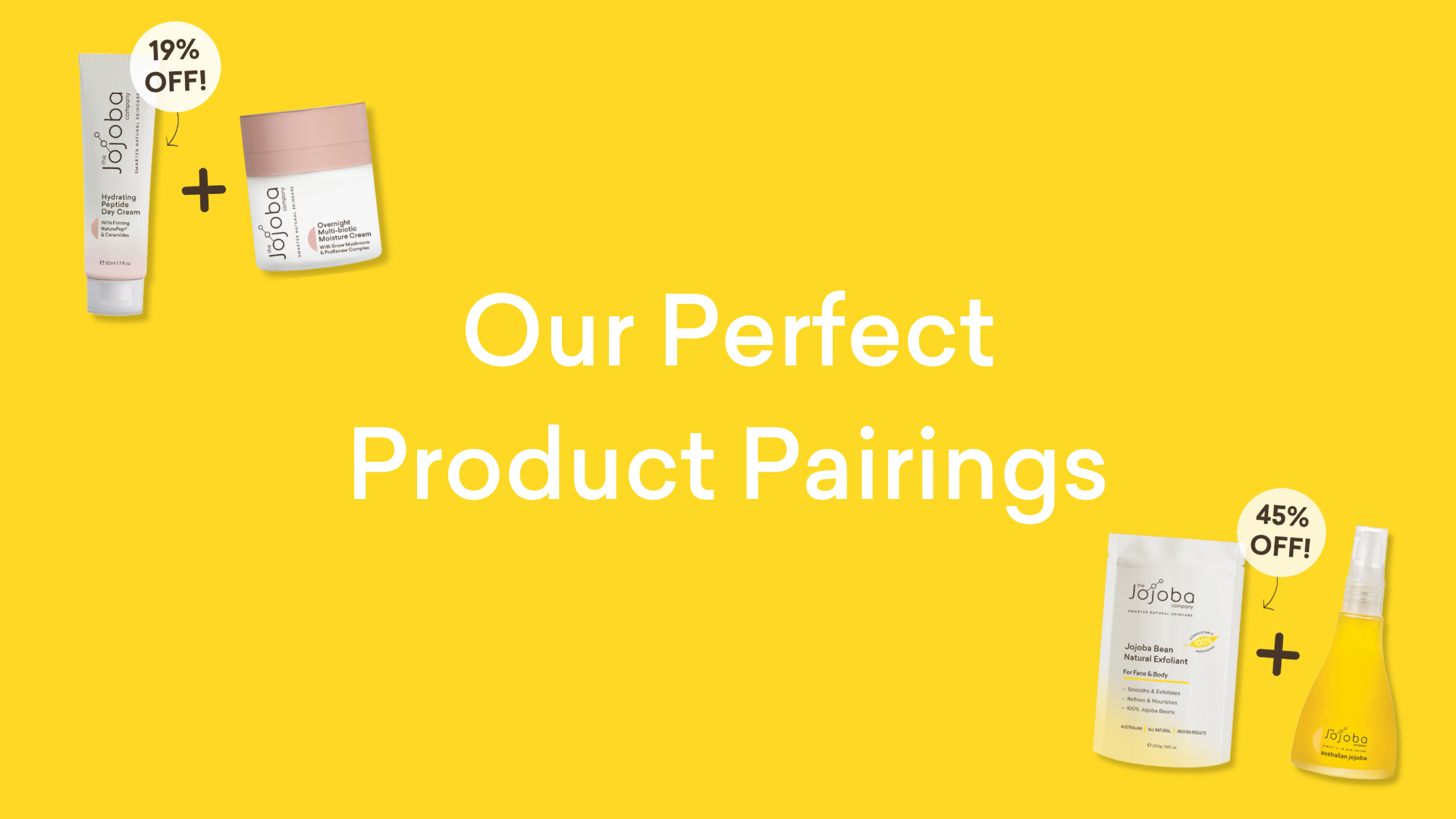 Find Your Perfect Match!
We believe in harnessing the power of nature to achieve healthy, glowing skin. But we also know that not all natural skincare products are created equal.
That's why we're excited to dive into the science behind these product pairs and how they can help address specific skin concerns.
Whether you're dealing with dryness, acne, or just looking to enhance your natural radiance, we've got you covered.
So, let's get started and explore the magic of these perfect pairs!
For intense hydration & complete skin barrier maintenance...
| | |
| --- | --- |
| | Using pre, pro and postbiotics in your skincare routine can help promote a healthy skin microbiome, reduce inflammation and improve texture. Not only is this probiotic pair infused with vegan probiotics that strengthen and protect the skin barrier, but they're also incredibly hydrating on the skin, keeping it radiant, healthy and soft. |
For deep hydration, plus firming and plumping for the skin...
| | |
| --- | --- |
| | Our Ultimate Serum is packed with hydrating humectant Hyaluronic Acid, plus anti-ageing actives Ameliox and Humacoll21 that increase collagen in the skin to keep it plump and smooth. Rosehip Oil is especially known for its ability to moisturise and brighten the skin, but when mixed with Jojoba, the combined antioxidants make it perfect for fighting free radical damage (which often contributes to ageing.) |
For day to night nourishment & skin smoothing...
A day cream and night cream are essentials in any skincare routine. A day cream will keep your skin hydrated and soft during the day, while a night cream will work to replenish lost moisture overnight. These two are the perfect combo of moisturisers to complete your day and night routine, ensuring that your skin receives enough vitamins, omegas and antioxidants each day.

For reducing pores, clearing congestion & refining texture...

AHAs and BHAs, found in our Jojoba & Enzyme Radiance Mask, are incredible for oily, combo and blemish-prone skin types as they help to unclog pores, dissolve oil and remove dead skin cells. Clinically proven to minimise pores by 80%* and refine texture in 15 days*, our water-based Clarifying Pore Control Serum will help reduce the size of large pores and lessen breakouts.
*Results based on test on 20 men & women (21 to 55 years old) using Miniporyl™ for 30 days.
For incidental sun protection and long lasting moisturisation...
| | |
| --- | --- |
| | If there's any step in your skincare routine you should never skip, it's SPF! No matter the weather, SPF is super important in protecting your skin and in turn, reducing the signs of premature ageing! If you're always stocked with an Australian Jojoba, apply it to the skin before applying your Multi Defence Moisturiser SPF15 and enjoy healthy, well-protected skin all day long! |
For end-to-end nourishment in your skincare routine...
| | |
| --- | --- |
| | Mists and eye balms are the perfect filler products if you are looking to add extra hydration to your routine. Use our Jojoba Water Toning Mist to hydrate the skin before applying your serums for better absorption. Our Firming Eye Balm is perfect to apply right at the end of your routine, after moisturiser. An eye balm will help to hydrate the undereye area to reduce appearance of wrinkles, as well as dark circles and eyebags. |
For water-based hydration & anti-ageing...
| | |
| --- | --- |
| | Ultimate Serum's vegan collagen HumaColl21 outperforms retinol in collagen production, meaning it's the perfect product to increase collagen in the skin and keep skin firm and healthy as you age. Our Jojoba Water Gel Cream can follow your serum as a super lightweight water-based moisturiser that is fresh and leaves skin feeling super hydrated with a 'barely-there' feeling. |
For smoother, brighter and healthier skin all round...
| | |
| --- | --- |
| | Exfoliating the skin is super important as it helps to improve skin texture and reduce the appearance of fine lines, wrinkles, and blemishes. Mixed with our Australian Jojoba, our Jojoba Bean Natural Exfoliant turns into an exfoliating polish fit for both body and facial exfoliation. |
For skin brightening & a more even skin tone...
| | |
| --- | --- |
| | AHAs and BHAs, found in our Jojoba & Enzyme Radiance Mask, are incredible for reducing pigmentation as well as age spots and uneven skin tone, leading to a brighter complexion. Combine this with our Pigmentation Oil, which features natural ingredient TYROSTAT. This ingredient works on the enzyme that produces melanin, tyrosinase, to slow it down from producing more pigment. |
For better absorption of your anti-ageing active ingredients...
| | |
| --- | --- |
| | Using a face mist (like our Jojoba Water Toning Mist) before your skincare helps product penetration, effectiveness, and spread. It primes the skin for optimal absorption. Our Ultimate Youth Potion contains actives like COQ10 and L22, which restores the skin lipids back to how they were at age 22. Use our mist before applying Ultimate Youth Potion for instant hydration and better absorption into the skin. |
---