A trip to nature, visit our Australian Jojoba with Leigh Campbell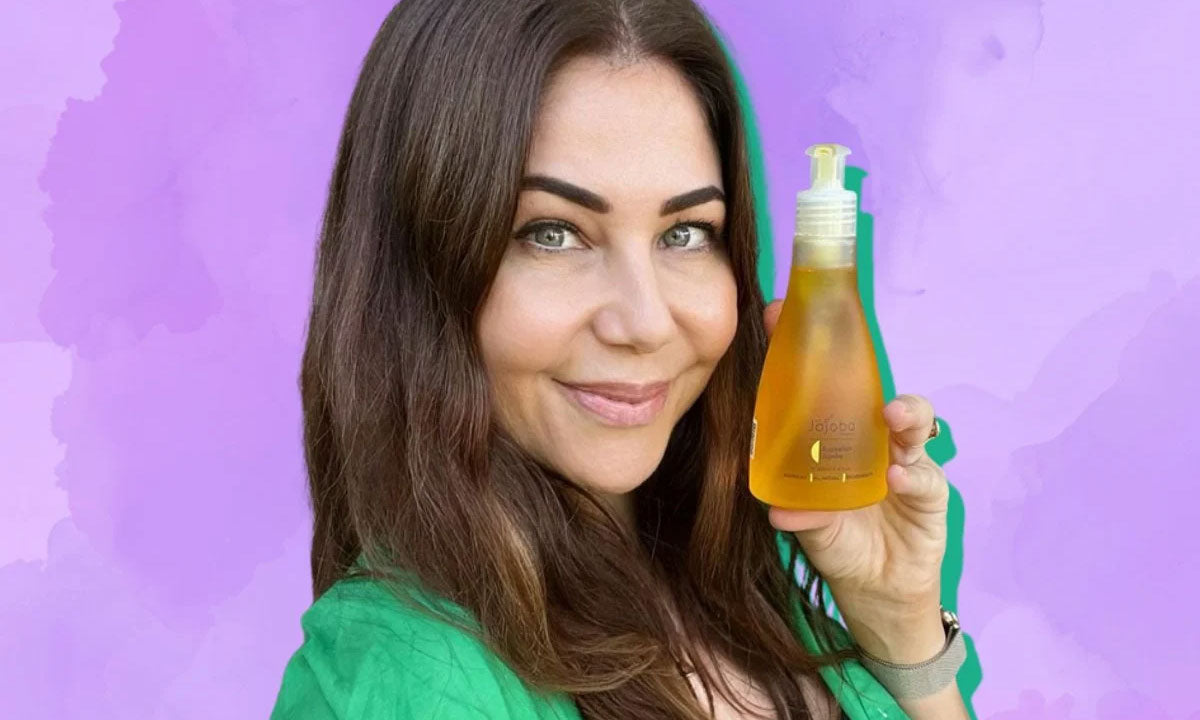 The Trip to nature, Join Our Harvest Story with Leigh Campbell
In early 2021, Leigh Campbell joined us for a tour of our Beresford Farm during the time of our annual harvest. An avid user of our Australian Jojoba since her mid 20's, the executive editor of Mamamia (and friend of ours) was incredibly excited to learn about our bean to bottle process.
Reflecting on her visit to the farm, Leigh wrote for Mamamia - recounting her own personal journey with Jojoba and listing her must-have TJC products.
Leigh Campbell's Jojoba Journey
Leigh started her journey with us in her mid 20's when she started to develop hormonal breakouts around her jawline. Her skin type is oily, so she wanted to find a product that worked with her skin, not against it. After much research and the testing of many unsuccessful products, she finally came across our natural Wadi-Wadi Australian Jojoba. Jojoba, which is technically a liquid wax ester - not an oil - had worked well with Leigh's skin, calming her breakouts and regulating the oil production in her skin. Since then, Leigh has reaped the benefits of our Australian Jojoba by using it in various ways, including to calm mosquito bites, soothe sunburn and remove stubborn makeup. "It truly has so many uses. I even use a big slurp in my bath and use it on my toddler too." Leigh wrote for Mamamia.
Read more about Benefits of Jojoba
Leigh's Visit To The Beresford Farm
Leigh joined us at the farm during our harvest time, which usually occurs once a year around February or early March.
When it's time for harvest, it means the beans on our Jojoba trees are mature enough to drop to the ground, ready to be collected. Before collection however, they are left to dry out in the sun, which helps to concentrate the purity of the golden wax inside - our much-loved Wadi-Wadi Australian Jojoba.
As described in Leigh's article, the process goes as such: we carefully shake the trees using a shaker, then sweep them up using a sweeper harvester. The beans are collected, washed and sent for crushing.
Leigh spoke highly of her harvest experience at the Beresford Farm: "It's a slow and love-filled process which gave me a whole new appreciation for the brand and products."
Leigh Campbell's Favourite Jojoba Products
Leigh has tried many of our skincare products, including Water Toning Mist, Ultimate Youth Potion, Ultimate Serum and Transformative Eye Serum.
But when it comes time to pick her favourite TJC product, there's a clear winner: "I can't pick a personal favourite, BUT I will say that Australian Jojoba has been in my cabinet for a decade - I am never without a bottle."
A multifaceted product, our Australian Jojoba lies at the heart of our entire skincare range, providing various benefits for the skin.
The Beresford Farm and Our Iconic Australian Jojoba
The golden liquid inside each of our signature bottles of Australian Jojoba is carefully handcrafted using only the finest Jojoba beans from our family-owned farm in Yenda NSW, which we call Beresford Farm.
Managed by our Farmer Dan, the trees on our Beresford Farm are delicately cared for all year round, until our annual harvest. Once collected, they're extra virgin cold-pressed and filtered 14 times for absolute purity.
We manage every step of the process, ensuring each bottle of Jojoba is of the highest quality.
With a product that is natural, cruelty-free and vegan friendly, what more could you want?
Read more about Beresford Farm.
Australian Jojoba 200ml
With a convenient pump lid, our new 200ml Australian Jojoba is the perfect product for Jojoba-enthusiasts. This larger sized bottle easily disperses Jojoba straight into your hands, making it easier to apply all over the body, on to your hair and of course, your face!
Shop Australian Jojoba 200ml
Start your Jojoba journey today, try Australian Wadi Wadi Jojoba. You can read Leigh Campbell's original article on Mamamia.
---