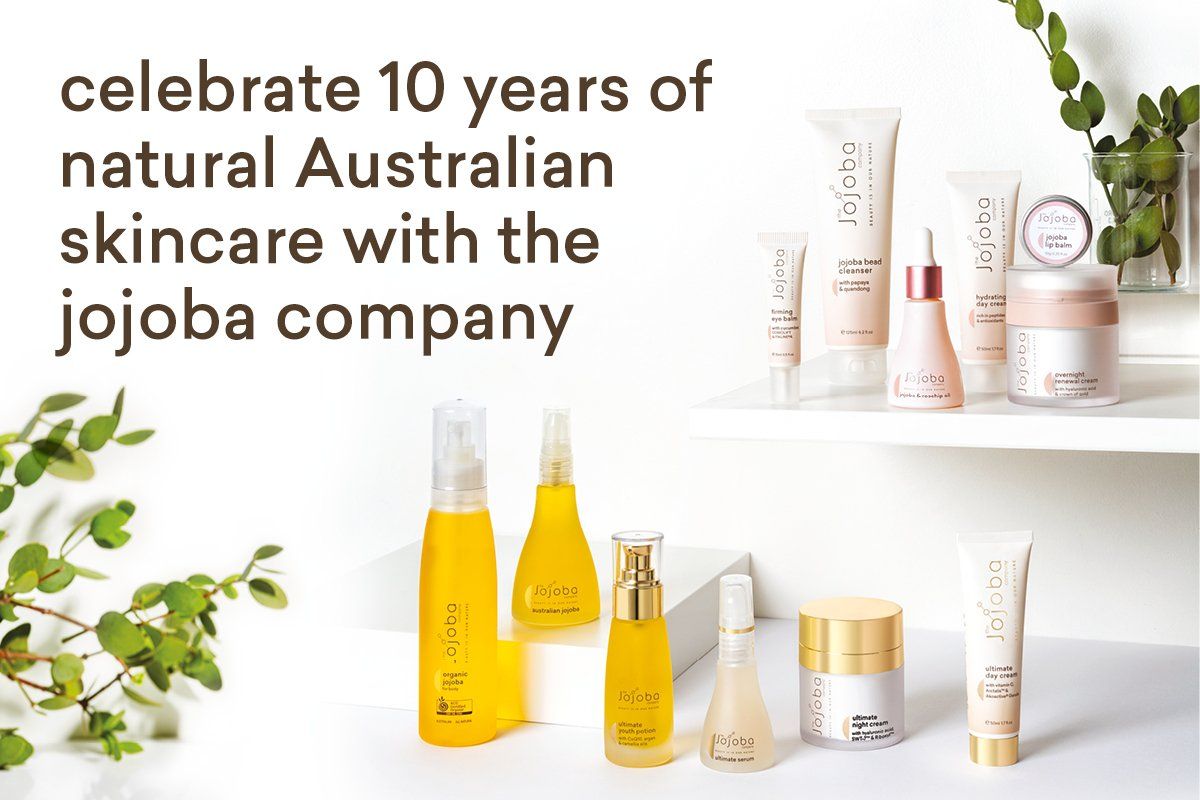 "We pride ourselves on our all-natural formulations with ingredients from sustainable and traceable sources that are active, clinically proven and result in healthy, glowing, younger looking skin. Now we have created sustainable packaging to match our natural formulations which will be easier to navigate" says Vicki Engsall, Co-Founder and Product Development Manager of The Jojoba Company.
Why the new packaging?
10 years young, time for a fresh new look!
10 years ago, we embarked on the journey of creating our beautiful jojoba-based skincare range. The focus for us was to make the formulas all natural, safe and of the highest possible quality while being the most effective and beneficial to skin, that we could. There was an abundance of chemical and synthetic brands around and only a few natural brands – even with a growing interest for natural products from customers. At the time, we selected packaging that complimented the beautiful formulations inside. We set out by creating our unique, signature bottle that is continually recognised for our pure jojoba and following this with boxes to match this uniqueness. We were lucky enough to be nominated for many packaging awards at the time and were proud of what we had created.
10 years later and it's time for a fresh new look! We were ahead of our time with the natural formulations we had created which meant there weren't a lot of sustainable options for packaging, however, thankfully today there are so many more choices for us.
What's changed?
Don't worry, it's still the same beautiful & natural ingredients inside.
We have always been and will continue to be, Australian made and owned, cruelty free and vegan friendly. Our all natural and hard-working formulations are still the same (with small tweaks for improvements on some) as what you have always loved. To tie in with our bottles, we have sourced box and tube materials that are 100% recyclable. Our signature bottles and boxes have remained the same, with the vibrant colours having been pulled back to more pastel tones that represent the ranges they have now been placed into. This change makes self-navigation easier for you to select the product that's right for your skincare needs. Along with this we have changed the way we talk to you about our products on the packaging. The reason for this is to highlight what we felt may have been missed – the key ingredients that truly make our products shine. We now communicate these at the front of the box as well as showcasing the proven results these products and ingredients have, on the side of the box.
There are 6 ranges in total, each of which are represented by updated colours:
Australian Jojoba 30ml, 85ml & 200ml
Organic Jojoba 100ml & 200ml
Jojoba bead cleanser 125ml
Jojoba & rosehip oil 30ml
Firming eye balm 15ml
Hydrating day cream 50ml
Overnight renewal cream 50ml
Ultimate Minis kit
ultimate serum 30ml
ultimate youth potion 50ml
ultimate day cream 50ml
ultimate night cream 50ml
Ultimate Minis
Citrus gel cleanser 125ml
Skin balancing oil 30ml
Daily light moisturiser 50ml
Pigmentation oil 30ml
Organic baby oil 100ml
Family run, Australian, sustainable – just like 10 years ago
As a natural skincare company, being environmentally conscious has always been at the forefront of our minds. Our pure jojoba has been grown on our family farm in Yenda, regional Australia since 2000 where our mantra has always been "good for you, good for the earth" and where we have always practiced sustainability. Jojoba on its own is a carbon negative crop, meaning that it actually eats more carbon from the atmosphere than it requires to grow and harvest (very cool, we know). It doesn't require cultivation and it doesn't have any pests or diseases, so the plants don't require spraying either. A sustainable farm has always been a focus for us and since its birth in the year 2000, it has tripled in size due to the increasing demand for pure jojoba and continues to maintain the high standards we set out to achieve 10 years ago. We now have packaging to match this and hope that you continue this journey with us, to a more natural and sustainable environment.
---