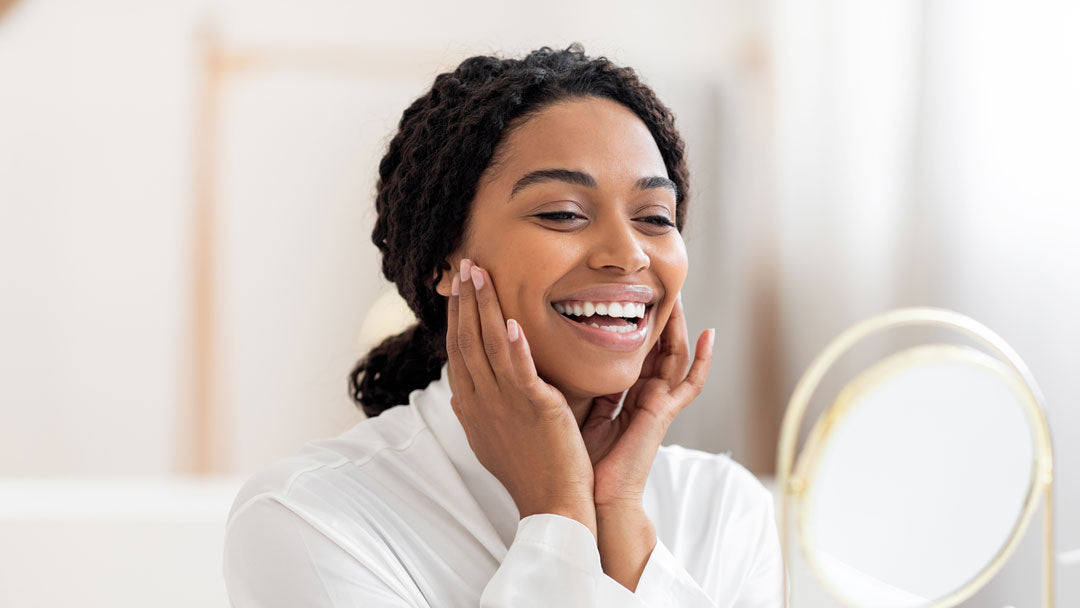 If you are someone who has access to social media, you are likely swamped every day with beauty gurus spruiking new products, trends and routines to get the best skin of your life.
But one question that everyone seems to want to know is, should you have a night time skin routine and if so, what is the correct order to do night skincare?
A nightly skincare routine is just as important as a morning skin routine. In the evening, you need to remove dirt and grime that has built up on the skin throughout the day. And since the skin repairs itself overnight, you should be giving it a boost with night time skincare products that work while you sleep.
Below, we break down the perfect night time skincare routine with 5 easy steps that will unveil healthy, glowing skin every day.
Step 1: Remove Makeup & Cleanse
It's essential to cleanse your face both morning and night. Even if you don't wear makeup during the day, it's still beneficial to remove any dirt, oil and dead skin cells that have built up throughout the day.
Another reason to cleanse your face at night is that your pillow case can accumulate oils from your skin and hair along with bacteria and dust – which can lead to acne and breakouts.
Try: A cleanser that will gently exfoliate the skin without irritation.
Our Jojoba Bead Cleanser is an environmentally-friendly cleanser infused with Jojoba beads and natural plant enzymes to gently exfoliate the skin without causing irritation. This will keep your skin clear and hydrated.
Step 3: Eye Serum or Eye Cream
The skin around the eyes is the only area on the face that doesn't produce sebum, the natural oil that is responsible for hydrating the skin. This makes the skin around the eyes prone to dryness, leading to fine lines, wrinkles, dark circles and puffiness.
Using an eye cream every night helps to prevent fine lines, dark circles under the eyes and general signs of tiredness or ageing.
When applying an eye cream or eye serum, never tug at or pull on the skin around the eyes. The best way to apply eye cream is by patting it on gently using your ring finger and making sure to go all around the eyes and not just underneath them.
Try: A natural eye serum that will hydrate the under eye area.
Transformative Eye Serum contains a trio of naturally-derived actives for the ultimate beauty sleep! It lifts and smooths the contours of the eye for visibly brighter, open eyes.
Step 4: Apply Serum/Peptides/Active A's
Active ingredients or "skin actives" are the superstars of any skincare routine. These ingredients include plant extracts and antioxidants that penetrate into the deeper skin layers and target common skin concerns such as hyperpigmentation, redness, fine lines, acne and dryness.
For both daytime and night time skin routines, it's beneficial to incorporate serums that include ingredients such as hyaluronic acid to pull moisture into the skin; alpha and beta hydroxy acids (AHAs and BHAs) to help exfoliate and boost collagen production; and retinol/vitamin A to brighten and plump skin.
Try: A deeply hydrating serum that contains anti-ageing actives.
Our Ultimate Serum contains naturally derived peptide Ameliox™ and two weights of Hyaluronic Acid, to deeply hydrate the skin and visibly reduce wrinkles. It also contains an innovative vegan collagen HumaColl21™, which is clinically proven to outperform retinol, vitamin C and marine collagen in the production of collagen.
Step 5: Night Cream
Finally, you need to be using a moisturiser both morning and night. Moisturisers are there to both deeply hydrate the skin and lock in that moisture - which is why most moisturisers are thick or heavy in nature.
The great thing is that there is a moisturiser suited for every skin type and concern, so if you're worried that moisturising your already oily or acne-prone skin will make it even slicker or congested - don't let that stop you from incorporating this step.
Another reason why moisturisers are effective for all skin types is that they help those skin actives applied in the previous step to be more effective.
Try: A night cream with humectants like glycerin and hyaluronic acid, which work to draw moisture into the skin.
Ultimate Night Cream is a deeply moisturising natural night cream which is clinically proven to visibly reduces deep wrinkles and regenerates skin cells overnight.
---